We are often asked for a list of the complaints that are most frequently treated by PhysioFirst members. The range is wide and clearly not all of the conditions listed below are covered by insurance cover.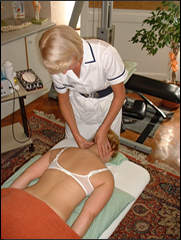 SPORTS INJURIES

to muscles, ligament, cartilage and tendon problems. Work related conditions such as Repetitive Strain Injury (RSI).

SPINAL PROBLEMS

including prolapsed discs, degeneration, sciatica, lumbago, stiff / painful neck and referred arm and leg pains.

JOINT PROBLEMS

arthritis, injury, pain / swelling / stiffness in joints such as shoulders, elbows, wrists, hips, knees and ankles.

AFTER SURGERY

rehabilitation after orthopaedic surgery, e.g. hip and knee replacements or general physiotherapy after general surgery.

FRACTURES

treatment to increase the healing rate and to gain full function once the bones have healed.

GYNAECOLOGICAL PROBLEMS

including pelvic pain and post surgery rehabilitation.

OBSTETRICS

including ante and postnatal classes / exercise / relaxation / advice and treatment for back pain during pregnancy.

CHEST CONDITIONS

both medical and surgical, including hayfever, asthma and sinusitis, pneumonia, cystic fibrosis, emphysema, bronchitis and bronchiectasis.

NEUROLOGICAL CONDITIONS

such as strokes, head injuries, nerve injuries, multiple sclerosis, shingles, cerebral palsy and ME.

PAEDIATRICS

for childhood conditions including postural and walking problems.

CIRCULATORY PROBLEMS

such as Raynauds disease, wounds, ulcers, cardiac rehabilitation.

BLADDER PROBLEMS including

stress incontinence.