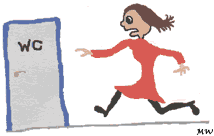 Urinary incontinence is a distressing and embarrassing problem which can happen to anyone at any age, and may affect you in different ways.
Incontinence affects one woman in three, and one man in ten, at some time in their lives.
You may:
get wet when you cough, sneeze, laugh or run and play with your children

have had to give up your favourite sport, aerobics, or even going for walks

have to rush to the toilet

know every toilet in the district, and plan even simple shopping trips around them

avoid long journeys, or going to stay with friends, for fear of 'accidents'

have bladder problems following prostate surgery.
There is no need to go on suffering in silence!
Weakness of your pelvic floor muscles can cause you to leak urine during normal activities such as running, laughing or sneezing . Sometimes it can make it difficult to 'hold on' as well.
---
Physiotherapy can help with pelvic floor problems, urinary and faecal incontinence, urinary frequency, having to get up in the night, mild to moderate uro-genital prolapse and pelvic pain, including prostatitis.
---
Overcoming these difficulties begins with a careful assessment of your problem followed by an individually tailored programme, including:
biofeedback

assessment of your muscle power

pelvic floor exercises

muscle stimulation

bladder training

relaxation

electrotherapy
For more information on how we can help, please contact Mary Warrington by email or by telephone on 01268 785615.
You can be sure of complete privacy and confidentiality, but you are welcome to bring a relative or friend along with you if you wish to. Appointments at the clinic offer unhurried sessions and relaxed surroundings, but you can be seen at home if you prefer.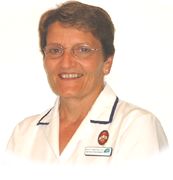 Remember - physiotherapy can prevent the need for drugs or an operation and put you back in control.
About Mary Warrington Grad Dip Phys MCSP SRP
Mary is a chartered and state-registered physiotherapist with many years experience, working in the field of incontinence and women's health, including the development of nationally-recognised professional standards. She has postgraduate qualifications in incontinence from the University of East London.